How to Calibrate a Miller Welding Machine
Miller Welding machines are used in residential and commercial construction. If you are noticing unusual arcing, which is when the flame is too high on a low setting, on your Miller welder, you should calibrate it. Taking the welder to a service shop could cost you a lot of money. You don't have to be a Miller technician to get your welder working again. You can calibrate it yourself with little hassle and minimal knowledge of how the unit works.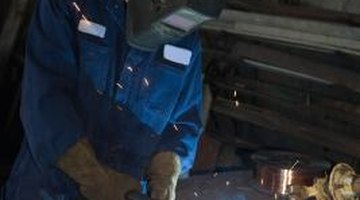 Turn the welder on and press the "Setup" button two times so the display reads "Process." Turn the right knob until you see the "Setup" option.

Open the drive rolls on the power source. Press the "Setup" and then "Arc Control" button together on the display panel.

Rotate the left knob until you see "MCAL" on the display. Turn the right knob until you see the "Yes" option. The welder is in calibration mode now.

Press down and hold the gun trigger until you see "Cal Done" on the screen. Release the gun trigger to save your calibration.
References
"Miller Welder Service Manual 2009"; Miller Publishing; 2009
Writer Bio
Charles Poole holds a Bachelor of Arts in creative writing from Appalachian State University. He started freelancing in college for local publications in Boone, N.C. and is continuing his career through online freelancing with a specialization in affiliate marketing, blogging and SEO.
Photo Credits
Jupiterimages/Photos.com/Getty Images
More Articles