What is the significance?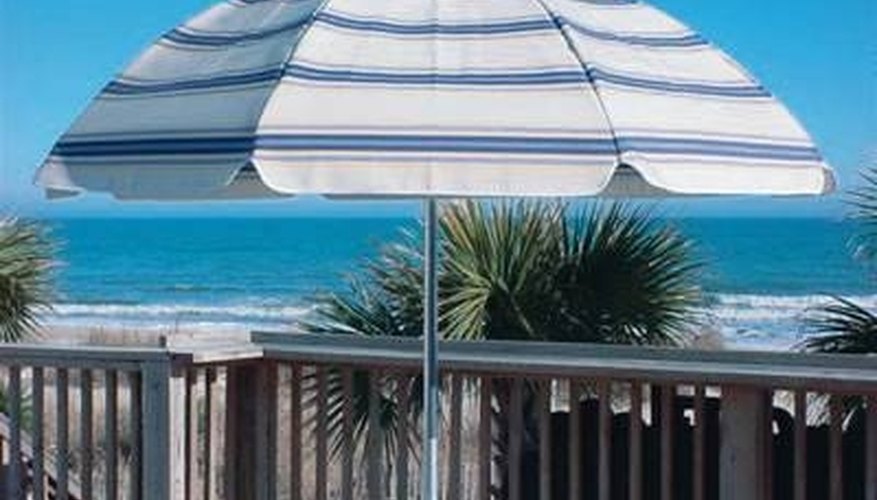 Patio umbrellas as used mainly as a way to keep outside diners from sitting directly in the sun. They provide shade and keep the diners cool while sitting outside. However, they can also be used in conjunction with lawn chairs when people wish to sit outside on a sunny day but don't necessarily want to get burned or tanned.
Types
There are at least three types of patio umbrellas on the market today. They are the crank and tilt umbrella, the pagoda umbrella and the pop-up umbrella. Though they all open and close the same way, some umbrellas have a few more features than others, making the process of adjusting them an easy one.
Crank Umbrella
The crank and tilt umbrella features a crank that allows the umbrella to open and close. Simply turn the crank clockwise to open the umbrella, then turn it counterclockwise to close the umbrella. In addition, the crank and tilt features a button, that when pushed, will tilt the umbrella to either the left or the right, depending on how you guide it.
Pop-up Umbrella
The pop-up umbrella features a manual lift, meaning that it has a ring in the middle, which connects the "ribs" of the umbrella to a central location. In order to open the umbrella, you must push the manual lift upwards. This will put pressure on the "ribs" and they will push apart, popping the umbrella open. Once open, you push the manual lift up until it stops and it will lock in place. In order to close the umbrella, push the button located on the manual lift and this will allow the lift to move freely. You then simply push the lift down and this will close the umbrella.
Pagoda Umbrella
The pagoda umbrella is just like the pop-up umbrella, except that it's styled differently. The pagoda is made to emulate the pagodas in Japan that feature a tapered spire. The pagoda umbrella also features a manual lift and operates the same way that the pop up does.
Who Uses Them?
Everyone and anyone can use a patio umbrella. People who have a picnic or patio table set up in their backyards usually have a patio umbrella set up so they can shield themselves and guests from the sun. Some restaurants offer patio dining, so they have umbrellas set in place for their diners. Beachgoers will sometimes take patio umbrellas with them so that they have some shade available while sitting on the beach. Concertgoers and those who attend sporting events sometimes also take patio umbrellas with them, if space and the venue they are attending allow them.