A List of Bedroom Themes
Your bedroom tells visitors a story of your personality, character and in some cases, your heritage. Design your bedroom that highlights your identity. Just like you, bedrooms have the potential to be graceful, quirky, energetic or soulful. You can express your bedroom's theme through the use of colors, patterns, accessories and even scent.
Retro Bohemian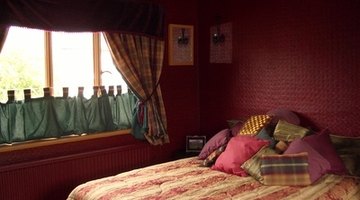 The revival of the environmental movement from the '60s and '70s has conjured a new theme in interior design: retro. Avocado green, sunflower yellow and soft orange adorn retro-themed bedrooms. Patterns of argyle and daisy flowers are used on linens, curtains, throw pillows and even sofas. Though placing a lava lamp on the bed table might be taking this theme one step too far, you can add retro touches by using beaded curtains, shag carpets and an 8-track player. All guitar players should place their instrument in a prominent location as well, complete with a Simon & Garfunkel poster above the bed.
French Style
Anyone who desires an elegant-yet-simple bedroom will appreciate a French-inspired room. Betty Lou Phillips explains in her book "Inspirations from France & Italy" that the French design seldom uses gold-leaf brocades anymore, but items representing class and sophistication are still valued. These items may include porcelain, quality paintings and silver.
This theme uses basic colors of white, black and gray combined with an accent color like baby blue, olive green, soft pink or lavender. Find tables with curvaceous metal feet and plush settees. Hang a chandelier above the bed and hang curtains above the bed's headboard. Scour flea markets for quirky antique objects like a damask-patterned vase or a porcelain bowl in which to hold candles or jewelry. Use heavy fabrics for both curtains and linens.
Indian Theme
Warm, vibrant colors with luxurious fabrics like silk and organza adorn an Indian-inspired bedroom. Determine which bold color you want to feature as the highlight of the room. Pick a dark red, bold orange, rich gold or even a cocoa brown. Paint your walls in these colors and choose one of the others for the curtains, bedspread and throw pillows. Choose rich wood furniture with ornate carvings in geometric shapes. Keep the lighting dim through the use of multiple overhead lights, lanterns and candles. For the room's fragrance, opt for spice scents like cinnamon or vanilla, or burn incense. Hang mirrors with a tile mosaic frame and buy tables with a similar tile design.
References
Resources
Writer Bio
Since 2008 Catherine Capozzi has been writing business, finance and economics-related articles from her home in the sunny state of Arizona. She is pursuing a Bachelor of Science in economics from the W.P. Carey School of Business at Arizona State University, which has given her a love of spreadsheets and corporate life.
Photo Credits
More Articles